Ogłoszenia European Federation of Periodontology
---
EuroPerio Series: the third edition will be on November 15, when we`ll discuss "Periodontal diseases and systemic diseases. Can we improve systemic health with periodontal therapy?". This time with exclusive talks by Angela R. Kamer (USA), Bjorn Klinge (Sweden) and Francesco d'Aiuto (UK).
More info here: https://www.efp.org/europerio-series/general-information/
Official #: #EuroPerio #EFPerio #TheRoadtoCopenhagen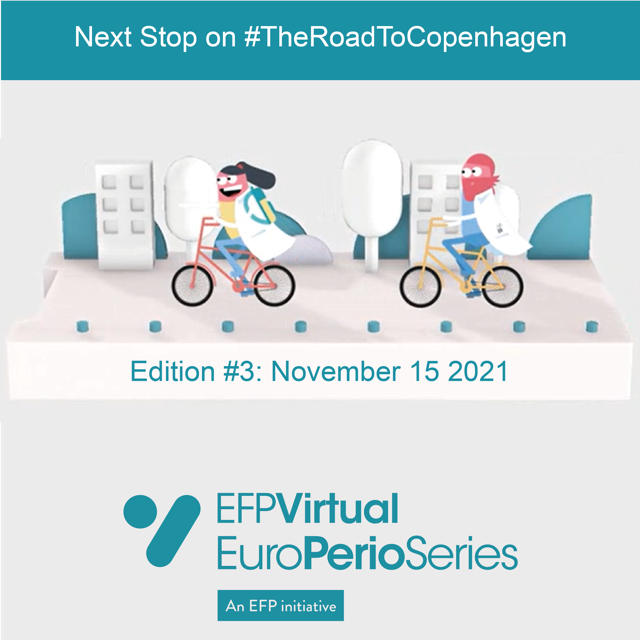 EP10 – Abstracts submission: The deadline for submitting abstracts of research and clinical-report presentations for the research sessions at the EuroPerio10 congress in Copenhagen in June 2022 is less than a month away. November 29 is the deadline for submitting abstracts, which should be of no more than 300 words. Applicants can choose between research presentations and clinical-report presentations. Abstracts can be submitted on a wide range of topics in periodontology and periodontics, and in dental implants and peri-implant diseases. A full list of acceptable topics and details of the abstract-submission process can be found at the EuroPerio10 section of the EFP website. Successful applicants will be notified by Monday 14 February 2022 and will have until Wednesday 2 March to register for EuroPerio10, which takes place at the Bella Center in Copenhagen on June 15-18, 2022.
Official #: #EuroPerio #EFPerio #TheRoadtoCopenhagen
International Perio Master Clinic 2022: Booking is now open for the EFP's International Perio Master Clinic 2022 which will take place in León in Mexico on February 25 and 26 next year. The topic will be "hard- and soft-tissue aesthetic reconstructions around teeth and dental implants: current and future challenges". More info here: https://www.efp.org/news-events/international-perio-master-clinic/
We are excited to announce that the registration for the International Perio Master Clinic 2022 is now open! After a very successful meeting in Dublin last year the EFP is moving on and bringing the Perio Master Clinic to Mexico. We will host the EFP International Perio Master Clinic in León, Mexico, from February 25 -26 2022. Be part of the exclusive one-track event that will give you the opportunity to pitch your level of knowledge and experience against that of leading experts! Don't wait too long to register – Seats are strictly limited to give you the best possible learning and networking experience. Register now at efp.org and be part of IPMC in León!
Official #: #EFPerio #periodontology #IPMC2022 #InternationalMasterClinic